TrafficGeyser and Main Street Market Machines: A Review
A Platinum Review of an Online and Offline Video Marketing System
I've used TrafficGeyser for over a year now. In fact, it has been about a year and a half since I first signed up for the Internet video marketing service! For the past year, I have been a platinum member of TrafficGeyser.
The past year and a half have been interesting, to say the least!
I started with TrafficGeyser as a complete "newbie" in the online world. While I had over 30 years of entrepreneurial experience in sales, marketing, and business building, and a few years in academia, when it came to anything Internet…I was at a loss. I can't tell you how many times I almost threw my computer right out the window! And that was before TrafficGeyser.
No kidding!
At first, TrafficGeyser was one of the most challenging experiences of my life.
No kidding again!
I spent the first two days of my TrafficGeyser membership, that's most of 48 hours (yup!), glued to my computer monitor trying to set up all the memberships and then to get a hang of a very difficult system, particularly for a "newbie!"
I couldn't find files, I couldn't download video or images, I had trouble with PowerPoint, I was a mess!
TrafficGeyser's support at the time was average, at best!
It is much better now!
But, slowly but surely, I got the hang of it. Yes, the hours, and I mean HOURS, spent glued to the monitor yielded real results and I started getting the hang of it. My very first video, a very basic PowerPoint video presentation, is still showing across the Internet, has hundreds and thousands of views (total), and has made me money. Not a lot of money…but money!
Given how I started and the back and forth with support when I first joined TrafficGeyser, that is real success!
After a time, I added additional profiles, started getting the hang of video marketing and, heaven help me, started to enjoy the whole Internet video marketing, TrafficGeyser experience!
About 6 months into my TrafficGeyser membership my life changed forever, I upgraded to the Platinum TrafficGeyser membership, and I have never looked back!
Not only did the upgrade open doors to another level of access to video sharing, social media, social bookmarking, and blogging sites, it has since also opened the door to an article submission tool that is really quite useful.
Additionally, it was at this level that I was first introduced to another membership, included with my TrafficGeyser Platinum membership, the OfflineBiz.com Gold Membership Forum, with Andrew Cavanagh and Jim Cockrum (or Silent Jim!).
The combination of what I learned from my TrafficGeyser membership and the information I was able to glean from OfflineBiz.com was the turning point in my online life and took me from a struggling, if not starving, Internet marketer to the world of inbound marketing consulting…a natural given my background!
The Internet, Video, and Inbound Marketing
There has been a lot of talk about the offline business opportunity, local search, and the riches to be made as an inbound marketing consultant (that's what it is called, by the way), helping local businesses understand the intricacies of the Internet and, in particular, the use of video to enhance search engine exposure and traffic to their offline, usually traditional brick and mortar businesses.
The next stampede to the promised land has begun!
Picks and Shovels Anyone?
As the new Internet riches stampede begins, and the savvy Internet marketing gurus gear up to sell more picks and shovels to the gold rushers (see below), you must ask yourself several questions:
First and foremost, is this something I can do?
Am I going to be able to sit belly to belly with business owners and speak intelligently about their challenges, the challenges and issues particular to their business?
Do I have enough Internet marketing experience to actually do what I say I am going to do; and, can I and will I do it? In other words, "Can I walk the walk?"
Do I know how to prospect for clients?
Will I be comfortable talking to business owners about what it is I do? Do I know it well enough to explain it and back it up?
Will I be able to take the rejection that comes with the territory?
Do I have the money to get started?
How will I learn what I need to know? Training with TrafficGeyser and Main Street Marketing Machines or some other program (and there are a few all of the sudden).
Who will I go to for advice when I am stuck?
Do I know how to access the right sort of talent to get the job done? You can't be marketing your business and building websites and writing blog posts…you need help!
Do I know enough about outsourcing? Can I speak to my virtual staff in a way that lets them know I know what I am talking about…so I don't get ripped off?
And so on and so forth!
In other words, there is a lot to consider!
It is not just:
Walk into a business, they fall all over you, you make a sale, and they pay you MEGA BUCKS!
Yes Virginia! There is a Santa Claus!
Sorry but the majority of the money is going to be made by people selling you programs to make the money! It's a fact of life, one repeated over and over again throughout history.
Just like the stunt Sam Brannan pulled to initiate the California Gold Rush. He made the money, not the gold rushers, because he was selling the picks and shovels they needed on their way to instant riches!
How did it all begin?
"The spark that ignited the gold rush occurred in May 1848 when Sam Brannan, a storekeeper in Sutter's Creek, brandished a bottle filled with gold dust around San Francisco shouting 'Gold! Gold! Gold from American River!' The residents of the city now had proof of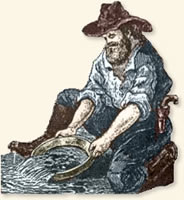 the discovery and the stampede to the gold fields was on. San Francisco's harbor was soon cluttered with derelict ships deserted by their crews. Workers abandoned their jobs – San Francisco's two newspapers were forced to close their doors as their staffs were struck by gold fever. The populations of many of the coastal towns were depleted as prospective prospectors headed to the gold fields." www.eyewitnesstohistory.com/californiagoldrush
The rush for riches was on!
And some things never change!
The new Sam Brannans are crying:
"There's gold in them-thar offline biznesses!"
Is there gold?
To be sure!
Is it as easy as many would have you believe?
Well, let me put it to you this way…I have prime beach front property in New Mexico, right on the Caribbean!
Want some? I'll sell it to you cheap…just give me your Platinum Card.
No!
Is it doable?
Yes! But you need help…lots of it!
Even if you have over 30 years of experience in sales, marketing, and building businesses…you need help!
It is not easy to sit across from a skeptical, perhaps struggling business owner who has seen more than his or her fair share of "new and amazing" marketing ideas and convince them that they should spend hundreds, thousands, or tens of thousands of dollars with you and your new company.
Heck, they may not want to give you a check for one hundred…much less five or ten thousand!
So, you better know your stuff!
Good! If you are still reading then maybe you have what it takes to make it.
Or at least you have some of the "pieces-parts," as that brilliant chicken marketing campaign mentioned a few years ago.
"Fused!"
We can add the rest!
OK!
So now you know it won't be easy and you are still with me!
Great!
Where do we go from here?
Well, you can do what I did and spend 30 plus years building offline businesses and then stumble around on the Internet for a year or more reading everything you can get your hands on and taking every single program ever offered by a "guru" who seemed to know what he or she was talking about at the time.
By the way, most of them DON'T…they don't have a clue!
Or?
You can ask for help!
Main Street Marketing Machines is a good first step!
But it is only a first step because they will only be able to offer you so much help, support, and guidance. After all, how many clients do you think they will have after this launch?
How much time do you think you will get one on one with Mike?
Right!
That is where I come in!
Tah-Dah!
Just kidding!
This is the point in the conversation where you must make a decision.
Why?
Because you don't have time to reinvent the wheel.
Nor should you want to!
This is the time you decide whether you are going to go it alone or ask for help. It is being offered, it is up to you to accept of reject that offer.
My offer is this:
If you are interested and very sincere about starting your own inbound marketing consultancy, and you are considering Main Street Marketing Machines, I will help you fill in the gaps, I will provide the missing pieces until you get on your feet.
Now, we can do this a number of different ways but you must make up you mind because MSMM is going offline at midnight tonight!
Starting your own inbound marketing consultancy, one that will make it through the education phase, as well as infancy (see The E Myth Revisited) and The Dip (by Seth Godin); and, on to long-term profitability is not easy. However, it will be an amazing journey, if you are serious and if you stick with it through the rough patches.
I will help you providing you do one thing:
Call me first!
If you are reading this and it is after the closing date for MSMM, there are alternatives…but you must call me!
Once we talk, and if you are serious, we can proceed and I will help you with all the pieces-parts, I will help you fuse it all together, and I will make sure I give you every bit of knowledge and experience I have to offer…and it is substantial!
So, contact me today! It's like the kids say:
If you snooze, you lose!
John Zajaros
216-712-7004 (bus)
440-821-7018 (cell)
PS, My inbound marketing consulting firm is The Ultimate Internet Image, you are welcome to check it out! Also, check out OfflineBiz.com and their Gold Membership Forum, it is awesome!